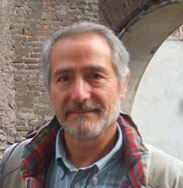 Protection of High vulnerable statues in their exposition sites and during transportation
Gerardo De Canio
ENEA
In this presentation are described the existing and validated methodologies and tools in Italy aiming at significantly reduce the vulnerability of the moveable and semi moveable cultural assets through non-destructive, or low intrusive interventions, also respecting their authenticity. Several examples are shown of numerical simulations and technological best practice to protect high vulnerable statues of primary importance as regards the impact of events like earthquake, vibrations, shocks and, last but not least, inappropriate handling when moving inside the museum and during transportation.
Regarding the protection in the museum's exposition sites, three example are shown related to the anti seismic basements for the Bronzes of Riace at the Archaeologic Museum of Reggio Calabria, the S. Michele Arcangelo at the Museum of the Opera del Duomo di Orvieto (MODO), and the proposed basement for the David of Michelangelo at the Galleria dell'Accademia of Firenze.
Two examples are shown related to the transportation of the marble statue of the emperor Augustus, known as "Augusto da Prima Porta", from Vatican Museum to the temporary expositions at the Scuderie del Quirinale in Roma , Italy and at the Grand Palais in Paris, France, ( 1500 Km) and the transportation of the Bronzes of Riace from Palazzo Campanella to the Archaeologic Museum of Reggio Calabria (800 m).
Curriculum
Actual position: Head of the Sustainable Innovation Technologies laboratory at the ENEA Casaccia Research Center, Roma, Italy

Fields of interest and recent (two years) experiences:
assessing the seismic vulnerability of cultural heritage assets: the Egyptian Obelisk in San Giovanni in Laterano, Roma, Italy; the vault of the Mosque of Alger, Algeria , The Cathedral of Orvieto, Italy
Protection of movable and semi-movable cultural heritage objects: Anti seismic Basements for the Bronzes of Riace (Reggio Calabria) and S. Michele Arcangelo (MODO Museum, Orvieto);
Transportation of high vulnerable statues: Transportation of the marble statue of the Emperor Augustus from Vatican Museum in Roma to Grand Palais, Paris